15/06/2021
In this article we are going to talk about the new electricity rates. As of June 1, 2021, and according to
Circular 3/2020
, electricity rates change, both for homes and premises, as well as for companies.
With this new regulation, a new distribution of tolls and charges is sought to promote energy efficiency.
Given the changes promoted by this new law, a maximum period of one year will be given, from its entry into force, to make a maximum of 2 power changes, and in this way, adjust the new powers to the needs of customers, provided that said modification does not entail an increase in the power currently contracted.
Here is a
comparison
of current and new rates, in
low voltage
: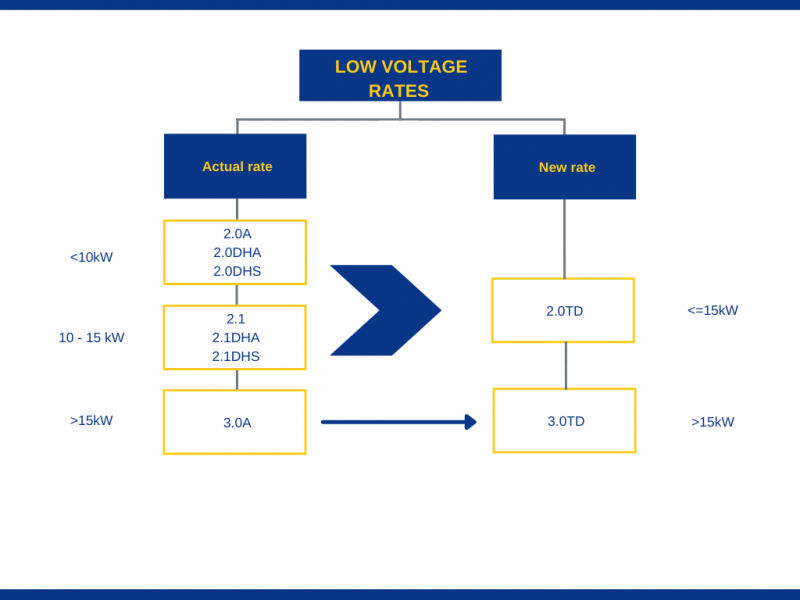 As can be seen below, for
rates of less than or equal to 15 kW
, the new single rate is
2.0TD
, which will have three periods of energy and two periods of power: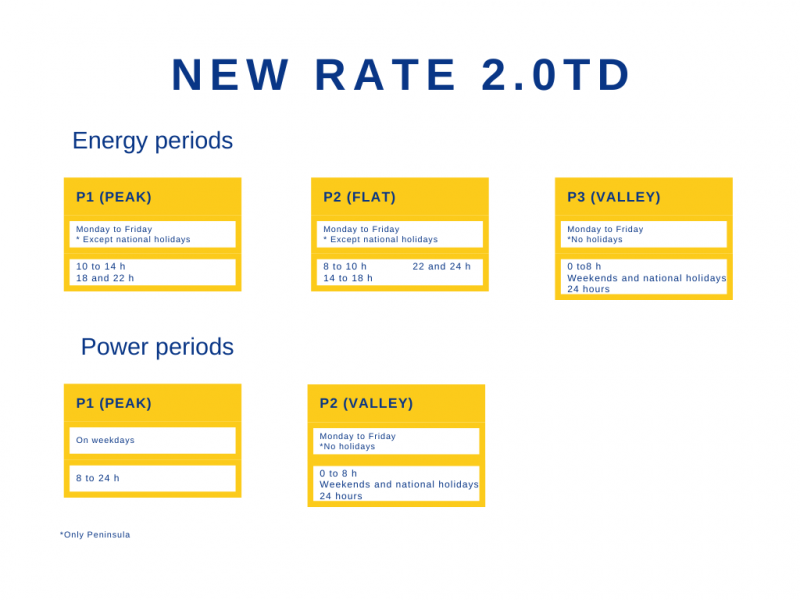 For
rates over 15kW
, the new rate is
3.0TD
, which goes from having 3 periods to 6, each one with its corresponding price of energy and different power depending on the day, time and geographical area.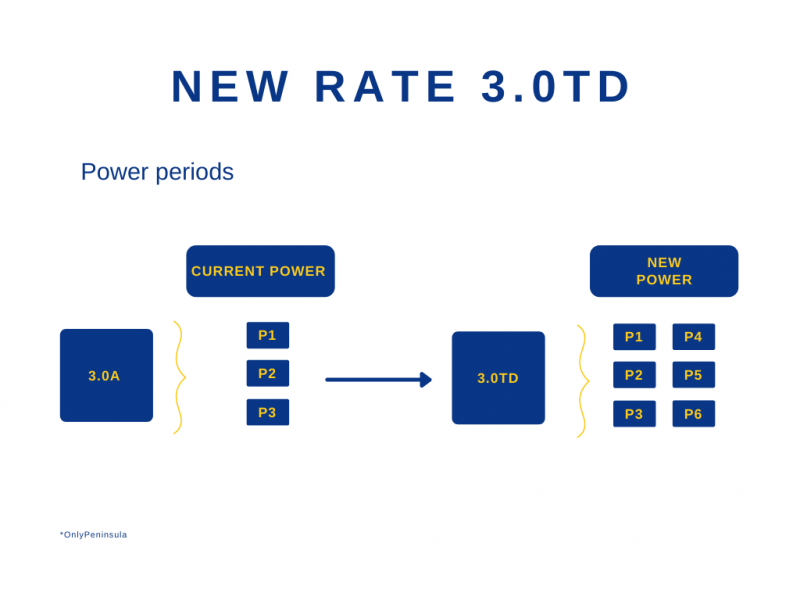 For
powers less than 50 kW
, the maximeter rule will no longer apply, instead, if the demanded power is less than or equal to the contracted, the contracted will be billed in each period, and in case the demanded is greater than the contracted one, the contracted one will be billed together with a penalty.
In summary
, and speaking only of regulated concepts, the rates will be affected, to a large extent, in the increase in the cost of energy, however, there will be a decrease in the cost of power, which leads us to conclude that the most recommended thing would be, from now on, to review the timetables of the periods and adjust consumption, as far as possible, to the periods where the price of energy and power are cheaper, and / or in the hours of greater irradiance, in case of having photovoltaic panels.
And it is on this last point where ÀLITER GROUP focuses. It is a good time to invest in your photovoltaic plant since costs have reduced significantly compared to recent years, and despite the surprise rise in prices in raw materials during this year 2021. This modification of rates by the government is so only, one of the measures that will be taken to comply with the Agreement signed in Paris that provides for an 80% zero CO2 in the EU by 2050.
¿What are you waiting for to quote your photovoltaic plant? At ÀLITER GROUP we have extensive experience in the industrial sector, both internationally and nationally. Do not hesitate to contact us: info@alitergroup.com