21/02/2022
The legal framework governing decarbonization in the EU is becoming increasingly stringent with companies. Although today it focuses mainly on companies with more than 250 employees, the truth is that targets will gradually be set for SMEs. At the moment we can find the following regulations on GHG mitigation:
Green pact
Regulations on due diligence and human rights
EU regulations on the environmental footprint
The EU's renewed sustainable finance strategy
The emissions trading scheme and other GHG emissions regulations.
The EU's new climate change adaptation strategy
European climate law.
The "Objective 55" package of measures
The EU's new industrial strategy
The new action plan for the EU's circular economy.
The EU's biodiversity strategy for 2030
At the moment some measures are being taken in sanctions that will gradually increase.
PESETA IV study
This study provides us with relevant and futuristic information about the consequences of non-action on the environment. Consequences not only in terms of natural resources, but also vital and economic: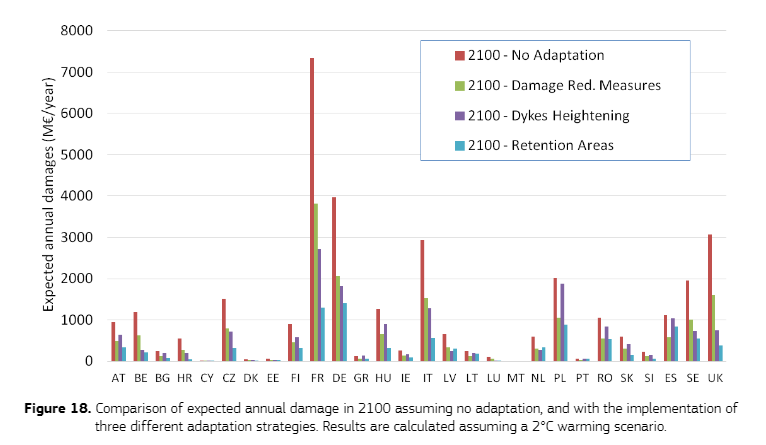 Exposing the current economy to a global warming of 3 ° C would result in an annual loss of welfare of at least 175 trillion euros (1.38% of GDP). In the case of 2 ºC of 83 billion euros / year (0.65% of GDP) and, finally, 1.5 ºC reduces the loss of well-being to 42 billion a year (0.33% of GDP ).
European Green Pact
The European Green Pact, one of many regulatory documents, focuses on three key principles for the transition to clean energy, which will help reduce greenhouse gas emissions and improve the quality of life of our citizens:
Ensure a secure and affordable energy supply for the EU.
Develop a fully integrated, interconnected and digitized EU energy market.
Prioritize energy efficiency, improve the energy performance of our buildings and develop an energy sector based heavily on renewable sources.
The main objectives of the Commission to achieve this are:
Build interconnected energy systems and better integrated networks to support renewable energy sources.
Promote innovative technologies and modern infrastructures.
Promote energy efficiency and ecological product design.
Decarbonize the gas sector and promote smart integration in all sectors.
Empower consumers and help EU countries fight energy poverty.
Promote EU energy standards and technologies worldwide.
Develop the full potential of offshore wind energy in Europe.
In addition, the European Commission has adopted a number of proposals to adapt EU climate, energy, transport and taxation policies in order to reduce net greenhouse gas emissions by 55%. to 2030., compared to 1990 levels.
Objective 55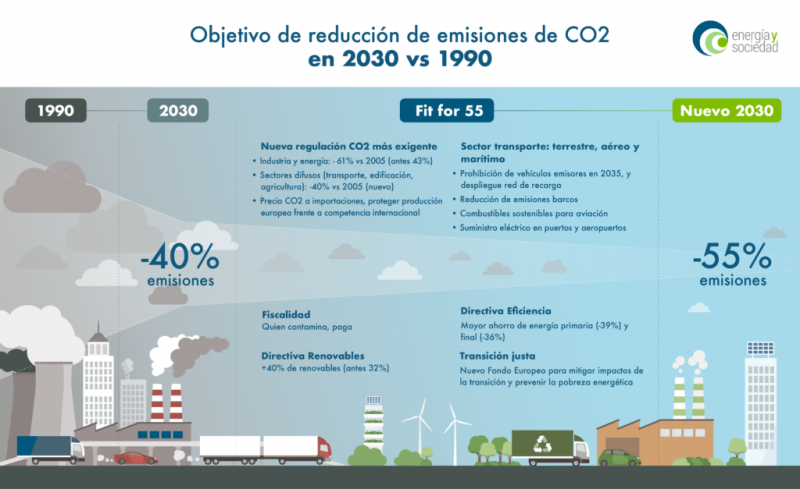 Benefits of decarbonization in the business framework
Achieve resistance to external shocks or systemic vulnerabilities.
Better reputation and brand value with respect to customers.
Entry into new markets.
Reduce business expenses as the cost of fossil fuels increases or the price of CO2 emissions.
As a final point, concluding that taking action on renewable energy is no longer an optional issue but an almost mandatory one. It is advisable, therefore, that these measures be taken gradually and prudently.
A first step that we recommend from Àliter Group, is of course the installation of a photovoltaic plant in your company, not only to save on the electricity bill, but also for the benefits for your customers, reduction of costs and compliance with the legal framework that will become increasingly present in the industrial sector.
References:
https://www.consilium.europa.eu/es/policies/climate-change/
https://eur-lex.europa.eu/legal-content/ES/TXT/?uri=LEGISSUM%3Al28120#:~:text=Establece%20normas%20que%20se%20basan,sufragar%20todos%20los%20costes%20relacionados
.
https://www.efeverde.com/blog/creadoresdeopinion/asi-se-aplica-el-principio-de-quien-contamina-paga-en-la-ue-por/
https://op.europa.eu/es/publication-detail/-/publication/c707e646-99b7-11ea-aac4-01aa75ed71a1
https://ec.europa.eu/info/strategy/priorities-2019-2024/european-green-deal/energy-and-green-deal_es
https://www.energiaysociedad.es/fit-for-55-objetivo-de-reduccion-de-emisiones-de-co2-en-2030-vs-1990/
https://cor.europa.eu/es/news/Pages/fit-for-55-package.aspx